Back To Menu
Italian Feast Package
Serves 10 - 15 people.
Three Foot Sandwich
Your choice of three meats and two cheeses, lettuce, tomato and relish.
(24 HOURS NOTICE REQUIRED)
(Select 3) Meat:
Turkey
Roast Beef
Salami
Corned Beef
Pastrami
Brikset
Bologna
Pepperbeef
(Select 2) Cheese:
Swiss
American
Jack
Cheddar
Have you tried this item? Pop it!
Help other diners know what to expect by sharing your experience.
Photo Gallery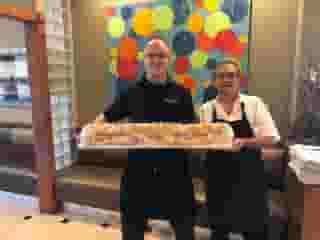 Back To Menu
Italian Feast Package
Serves 10 - 15 people.
Three Foot Sandwich
Your choice of three meats and two cheeses, lettuce, tomato and relish.
(24 HOURS NOTICE REQUIRED)
(Select 3) Meat:
Turkey
Roast Beef
Salami
Corned Beef
Pastrami
Brikset
Bologna
Pepperbeef
(Select 2) Cheese:
Swiss
American
Jack
Cheddar
  Back To Menu